No. 1 smartphone marketing tool in the domestic app market. Ad delivery, operation and performance analysis — all with 1SDK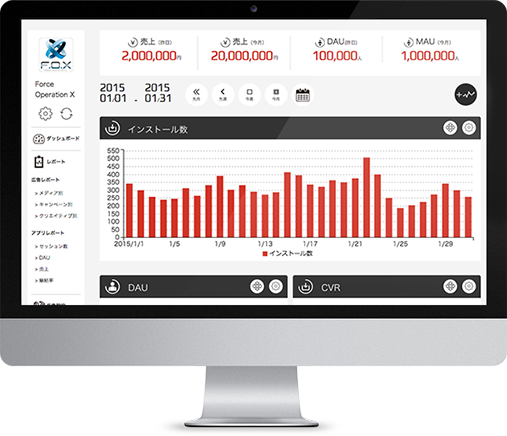 ABOUT
ABOUT F.O.X
This solution tool makes it possible to measure and analyze the effectiveness of smartphone advertising. It provides support for your company's promotion, not only through the measurement of app downloads and actions, but also through measurement of effect based on users' behavioral characteristics, extending even to LTV measurement.


POINT
Characteristics that maximize advertising effectiveness
50% share of installation in the domestic app market
"Force Operation X" (F.O.X) is Japan's first advertising effectiveness measurement tool for smartphone apps. It has been integrated with more than 4,000 apps/titles introduced by advertisers. (as of February 2015). The number of partnerships with major media outlets is the highest of any smartphone advertisement tracking tool in the world. Simply by installing F.O.X's SDK, it becomes possible to deliver advertisements targeting users across the world.
* A majority of the 100 top-selling apps have adopted F.O.X's SDK. (CyberZ Inc., Internal investigation)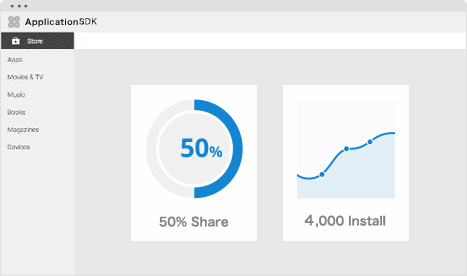 Official tool certified by Facebook and Twitter
F.O.X has officially been certified as Facebook's "Facebook Marketing Partners" and Twitter's "Twitter Official Partners" which enables us to deliver advertisements to both social media platforms with F.O.X SDK. Not only is it possible to measure the number of app installations, but also to measure subsequent actions within the app, retention rate and more.
Screen design exclusively for app marketing
We have pursued a design that enables intuitive transitions in each procedure, from installation and advertising delivery set up to analysis and reporting. This has made it possible to operate advertising smoothly, without requiring a large amount of time and effort. In the reporting function, display items can be freely customized according to the customer's intended use.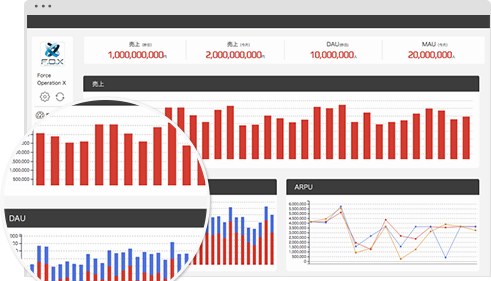 Test delivery is possible 5 minutes after installing SDK
Aided by our track record of being installed in more than 4,000 apps, we have established a flow of SDK installation that reduces work that requires a large number of man-hours and minimizes the man-hours required for adoption. It is possible to complete the entire series of work from SDK download to adoption work and testing on the dashiboard, meaning that it does not take a large amount of time and effort, and can be used almost immediately.